Perforated Extruder Screen Has Uniform Opening and is Easy to Install
Perforated extruder screen can be made from a variety of materials such as stainless steel, aluminum, copper or brass. And it can be designed into different density of mesh to meet filter requirements.
With simple and strong structure, perforated extruder screens are easy to install and operate. What's more, they not only can filter and sieve plastic, glass, chemical fiber, but also play an important role as the frameworks of the key filter.
PER-01:
Shapes and sizes of perforated extruder screen can be custom made.
Specifications of perforated extruder screen:
Materials: stainless steel, aluminum, copper, etc.
Hole patterns: round, square or custom made.
Hole diameter: 0.5–10 mm or can be customized.
Screen shapes: round, oval, cylindrical, square, cone, pleated.
Layers: single layer or multiple layers.
Frame: margin, no margin or with frame.
Perforated extruder screen features:
Uniform holes and simple structure.
Easy to use and rinse.
Excellent resistance to abrasion and corrosion.
Perforated extruder screen applications:
Be installed on extruder for primary filtration of rubber, glass, chemical fiber, etc.
Support or protect core filter.
Sieve powder, coal, medicine and foodstuffs and distillation, absorption are also its important functions.
PER-02:
Perforated filter disc has simple structure and is easy to install.
PER-03:
Perforated tubes can be used for a support of the key filter element.
PER-04:
We can offer perforated extruder disc made of copper or other special materials.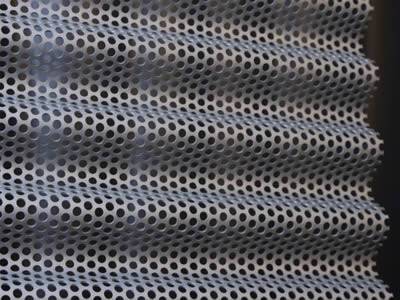 PER-05:
Perforated extruder screen can be
pleated
or other shapes according to your needs.